Best Orthopedic Shoes of 2022 for Maximum Support & Relief
, by Edmond Elsina, 8 min reading time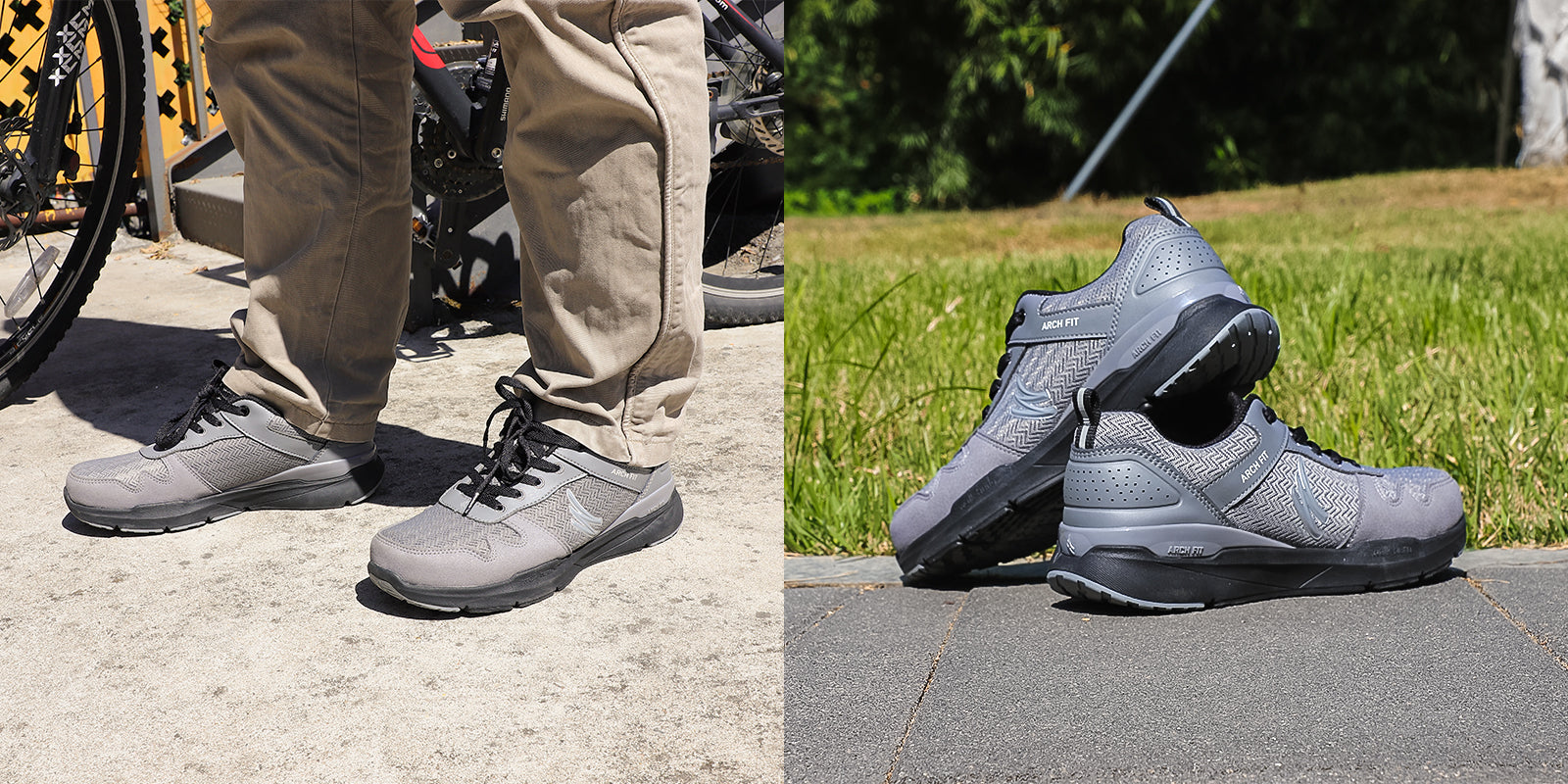 It might sound silly, but orthopedic shoes can play a huge role in your overall health. Wearing the wrong shoes can not only cramp your style, but it can also cause a cascade of postural and structural issues in your body. Whether you're a walker or a frequent theme park goer, the best orthopedic shoes will offer sufficient support and cushioning to keep your feet from the ailment—and your body healthy.

Orthopedic shoes provide intentional arch support, targeted cushioning, and room for custom orthotics. Each person has different needs when it comes to footwear. So we rounded up a few of the best orthopedic shoes to help you get a little more support in your soles.
What Are Orthopedic Shoes
Orthopedic shoes don't fall into one singular category or style — there are tons of different orthopedic elements that a pair of shoes can have that boost their supreme comfort level. Here are a few of the characteristics that we searched for when shopping for the absolute best pairs:
Arch Support: Flat shoes just will not do! We wanted to make sure that the soles of these shoes are curved to fit the natural arches and curves of the foot, which help make the shoe all the more comfortable.
High-Quality Materials: Each of the shoes we found designed to help your feet absorb shock while walking.
Supportive and Comfortable Design: We made sure that the spacious room on the front of these shoes won't pinch your toes and provide the proper amount of ankle support if that's what you need from your footwear!
How Do You Know If You Need Orthopedic Shoes
"The most common reason we prescribe orthopedic shoes is for foot deformity or 'at risk' feet," explains holistic podiatrist Robert Kornfeld, DPM. "Patients with diabetes (who suffer from peripheral vascular disease or peripheral neuropathy) and non-diabetics with peripheral vascular disease and peripheral neuropathy are considered at risk."

Still, even if those conditions don't apply to you, you may want to consider a pair of shoes that offering sufficient support and alleviate pain. Or you might simply need a pair that can accommodate a custom orthotic, which is an insert that works to bring your foot into alignment.

Keep in mind, there are plenty of off-the-shelf shoes out there that label themselves as orthopedic. However, they might not be a total fit for your needs. "An authentic orthopedic shoe is fabricated off a cast of the patient, so all of the anatomy and contour is considered in the construction of the shoe," Kornfeld explains. "There are companies who claim to make 'orthopedic shoes' that supposedly put the foot in its proper anatomical position for function. But there are too many variations in foot structure and function for me to feel confident. And they would be fine for my patients."

The orthopedic shoes on our list are a great starting point. Why we say that? Because of addressing foot pain on their own or with the help of an orthotic insert. But if you're hoping to get a better understanding of your own specific footwear needs, it's best to see a podiatrist get to the root of the problem. Especially if you are experiencing any pain or discomfort.
What to Look for in Orthopedic Shoes
Whether you need orthopedic sneakers or are simply looking for the best shoes for older adults, be flexible and understand your choices. "Strength, flexibility, disease, and their environment, we considered these all factors," says Ware.
Consider these factors when choosing orthopedic footwear:
Orthotic-friendly: Per our expert's recommendations, in addition to being supportive on its own. A true orthopedic sneaker should be able to accommodate a custom orthotic if necessary.
Comfort and adjustability: "Seniors, especially men, do not bend well. So they often compromise support for ease of putting on the shoe," says Ware. "A good trick is to purchase some expandable laces and pre-tie the shoe. Or converting them into a more accommodating option for support and swelling. The lacing system allows the person to slip the shoe on, much like a loafer."
Cushioning and shock absorption: The insole is inside the shoe, where the footrests are. Shoes with removable insoles give you more flexibility. Because you can replace them with insoles that provide more cushioning or stronger support.
Traction and grip: The outsole, or the hard bottom of the shoe, should conform to your foot. Non-skid soles can help prevent falls.
Toe box: This is the area in the front of the shoe. That's where the toes go, and it can be round, pointed or square. Anyone who has worn pointed-toe shoes knows all too well that the toe box can cause discomfort. The deeper the toe box, the more room there will be for your toes.
4 More Comfortable Orthopedic Shoes That We Adore
#1 Best for Walking: WalkHero's Popular Orthotic Sneakers
We'll be honest: It's hard to find budget-friendly shoes for low arches. A lot of that has to do with the quality required in a pair of comfortable shoes. With that said, WALKHERO Shoe is an excellent option. And when you purchase online, some sizes are as low as $60 a pair.
These ultra-supportive sneakers have a comfortable EVA midsole with a rubber outsole. Also, an upper made of synthetic leather and mesh, which makes them water-resistant. They're also lightweight and feature moisture-wicking technology to keep soles dry.
On top of that, they come highly recommended by over 4,000 customers. Be recommendations for their spaciousness (a must for low arches), comfort when walking long distances. 
What Customers Say: In general, there are a long-time hit with customers who need supportive walking shoes. One shopper writes, "I have bunions and very bony feet. I also wear custom orthotics. For years I've tried numerous walking shoes and none have given me the comfort and support of these shoes." A few people do mention these shoes running small, and some say they do not hold up well over time.
Shop Men's Walking Shoes with Arch Support
#2 Best for Plantar Fasciitis: WalkHero's Jogging Orthotic Sneakers
These shoes were designed especially for people with different kinds of arches. They come in medium width. And the neutral aesthetic makes them a great option for a range of activities including walking, running, cross-training, and errands.
The breathable mesh upper contrasts a more stable base, and the heel finger loop makes them extra easy to slip on. With a thicker midsole than the brand's other shoe models, the sneakers give you a bit of a height-lift—and a sufficient amount of cushioning.

WalkHero has a strong sustainability mission as well. The brand encourages you to support either a cause or specific charity simply by registering your purchase. Once you select your charity, a portion of your purchase will be donated.

What Customers Say: The jogging sneaker gets excellent reviews, especially from folks with plantar fasciitis. "This is my second pair. They really make my legs feel less tired after my very busy 8-hour shift, and my plantar fasciitis pain got much better with these shoes," one reviewer raves. On the negative side, those who weren't happy with their purchase complained that the durability didn't fit these shoes' high price tag. A few people warn that they run large, so you may want to size up if you purchase.
Shop Men's Jogging Shoes with Arch Support
#3 Best Orthopedic House Slippers with Arch Support
Some people like to go barefoot at home. But with this cozy pair of slippers from FitFlop, you'll find it harder to take them off. In addition to offering the fluffiness you crave, they're complete with triple-density EVA midsoles that help absorb shock and reduce underfoot pressure.

What reviewers say: "A slipper that you can wear all day around the house…not too hot, just cozy and with great foot support. I did order one size smaller as suggested, and that was the right call."
#4 Best Slip-On Arch Support Sneakers
Designed with a springy foam base and canvas upper, these sneakers made to contour your feet as you wear them with soft linger. They have an internal and external molded heel for stability, as well as a soft foam sock liner that adds even more support. Available in five colors, they come in whole and half sizes 8 to 14.

What reviewers say: "WalkHero products fit my foot better than other shoes that I've tried," one fan says. "The quality is great, the price reasonable, and the fit is outstanding. I would recommend this shoe to anyone looking for comfortable, stylish footwear."
The Takeaway
Whether you're a walker or someone who stands all day at work, our feet go through a lot—and it's up to us to keep them happy and healthy. If you're needing more stability and cushion in your shoe, one of the orthopedic and orthotic-friendly shoes on our list might just do the trick. Just remember, don't hesitate to reach out to a podiatrist if you're experiencing any concerning foot or ankle pain—life's too short to let the wrong shoes slow you down.
Tags
---