The Best Non Slip Work Shoes for Plantar Fasciitis in 2022
If you are experiencing plantar fasciitis, practicing good foot care and wearing the right pair of best non slip work shoes can be transformative for your aches and pain. Whether you're dressing up for a special event, going on an outdoor adventure, or looking for a casual pair of everyday shoes, the right shoes can make a huge difference in reducing your plantar fasciitis symptoms.
Every year, millions of Americans experience foot pain including plantar fasciitis. A condition that is the most common cause of heel pain. This condition can make everyday activities like walking, exercising, and even just standing around excruciatingly uncomfortable.
On top of that, about 50 percent of people with plantar fasciitis also experience foot spurs which can result in further inflammation of the plantar fascia (the fibrous tissue that connects the calcaneus—your heel bone—to the base of your toes).
For someone with Plantar Fasciitis, the challenges of daily life can be overwhelming. You may find yourself having difficulties walking or even running due to foot pain that is unrelenting and difficult to ignore during a long day at work.
Maybe it's time to search for a solution. Don't worry, We've put together a list of the best non-slip shoes for plantar fasciitis to help you feel comfortable, even when you're on your feet all day.
There are many treatments for this condition; however one option, if you're looking for relief from Plantar Fasciitis and want something comfortable, would be wearing supportive shoes like these styles from WALKHERO.
What Plantar Fasciitis Is?
In case, plantar fasciitis is one of the most common causes of heel pain. It means inflammation of a thick band of tissue that runs across the bottom of your foot and connects your heel bone to your toes.
Plantar fasciitis causes a stabbing pain that usually occurs with your first steps in the morning. As you get up and move more, the pain decreases typically, but it might return after long periods of standing or after rising from sitting. Plantar fasciitis is more common in runners. Also, overweight people wearing poor support shoes have an increased risk of plantar fasciitis.
How Common is Plantar Fasciitis
It is the most common one, as stated by the National Institutes of Health (NIH):

"PF is the most common cause of inferior heel pain in adults." which means more and more people are being found with these issues. It's instead a common one.
General Causes of Plantar Fasciitis
It's always important to wear the correct pair of work shoes at your workplace. While working on very demanding work environments wearing any usual pair of shoes then there is a high chance of suffering from plantar fasciitis or any other foot disorders.
Your foot gets highly pressurized while you are in heavy work. So before you go to your workplace, pick a pair of shoes that offer enough safety and support to your feet. We suggest you to stop using non-supportive pair of work shoes.
What Else to Look for Before Buying The Best Work Shoes for Plantar Fasciitis?
Whenever looking for buying the best work shoes or non-slip work shoes for plantar fasciitis and heel spurs there are some other important facts that you must check carefully.

However, in most cases, we noticed that people are careless about those facts. That's the reason we've decided to come up with a comprehensive list of what you should double-check before buying your next pair of work shoes in 2022.
Arch support
All the plantar fasciitis sufferers, you are at very sensitive points right now. All other features are simply valueless until the shoes have enough arch support.

This is not applicable only to work shoes but to any other footwear the plantar fasciitis sufferers try, must be incorporated with arch support insoles. So we highly encourage you to double-check whether the pair is arch supportive or not.
Slip Resistant Grip
Some shoes have a slip-resistant grip. Their purpose is to prevent you from slipping or falling when you're strolling, jogging, running, or doing other activities. Friction assists them in accomplishing this labor. Slip-resistant shoes will prevent you from injuring yourself or worsening your condition by preventing accidental slips or trips. It provides an additional layer of protection to your feet.
Shock absorption
Plantar fasciitis shoes must have the shock-absorbing capability. As we have mentioned before that the outsole quality of work shoes must be high. If the shoe outsoles are engineered with the best quality rubber then you don't have to worry about shock absorption.
On top of that, there are WALKHERO out there that offer shoes with shock-absorbing technology that features premium EVA materials.
Wider heel base
In the case of plantar fasciitis suffers, a wide heel base work shoe with anatomically correct alignment of heel bone structure is vital.

So if you are plantar fasciitis suffers and looking for the best work sneaker for plantar fasciitis and flat feet then double check the heel area of the shoes before buying them. This is applicable to any kind of PF shoes, not just to work shoes.

So while planning to buy walking, running, and even cycling shoes for plantar fasciitis, don't forget to check the heel base.
Premium quality rubber outsole
This is another important issue that you care about. While working on wet, and slipped areas, the pair of shoes you wear must protect you from falling and slipping.

The better rubber outsole provides excellent traction and anti-slip resistance so that you get maximum work efficiency even on rough and slippery surfaces.

It's more important while searching for the best work shoes for plantar fasciitis and heel spurs.
Mesh upper
Your work shoe is equipped with all the latest features and technologies, also very flexible to wear. But if it doesn't feature a mesh upper then your feet feel sweaty and irritating.

So eventually it doesn't serve the purpose. That's why mesh upper is so much important for any kind of work shoes. It works like ventilation.
Our Picks for the Best Non-slip Shoes for Plantar Fasciitis of 2022:
#1 Best Non-slip Shoes at Work for Plantar Fasciitis
These lightweight women's running shoes are designed with consideration for those with shin splints, plantar fasciitis, bunions, and heel spurs. The shoes feature the latest technology from WALKHERO to help provide a stable, supported stride.
The dynamic support system helps enhance stability while WALKHERO SOLE™ technology offers light, responsive cushioning. The shoes are also made with a redesigned heel and an Orthotic sock liner for improved comfort. Meanwhile, TPU plate construction is a unit under the heel that helps keep the shoes lightweight, adding to the overall cushioning and stability of this shoe.

Several reviewers on the WALKHERO website say these shoes are a comfortable choice that has helped with their plantar fasciitis. "I suffer from plantar fasciitis and have had no pain since finding these sneakers! I work on my feet all day, too!" shares one reviewer.
Shop Women's Walking Shoes with Arch Support
#2 Best Work Shoes for Standing All-day
These shoes are made to provide maximum support for everyday walking and running while offering a lightweight, responsive design. The shoes feature a superior plantar cushion for support in your stride and are soft enough to deliver all-day comfort. Premium EVA outsole provides cushioning that adapts as you move to reduce the impact on joints. These walking shoes are also certified for slip resistance, giving you effective traction.

Reviewers on WALKHERO say that these shoes are comfortable for all-day standing and jobs that require you to be on your feet. One reviewer commented, "Excellent quality. Very comfortable and give great support on the arch."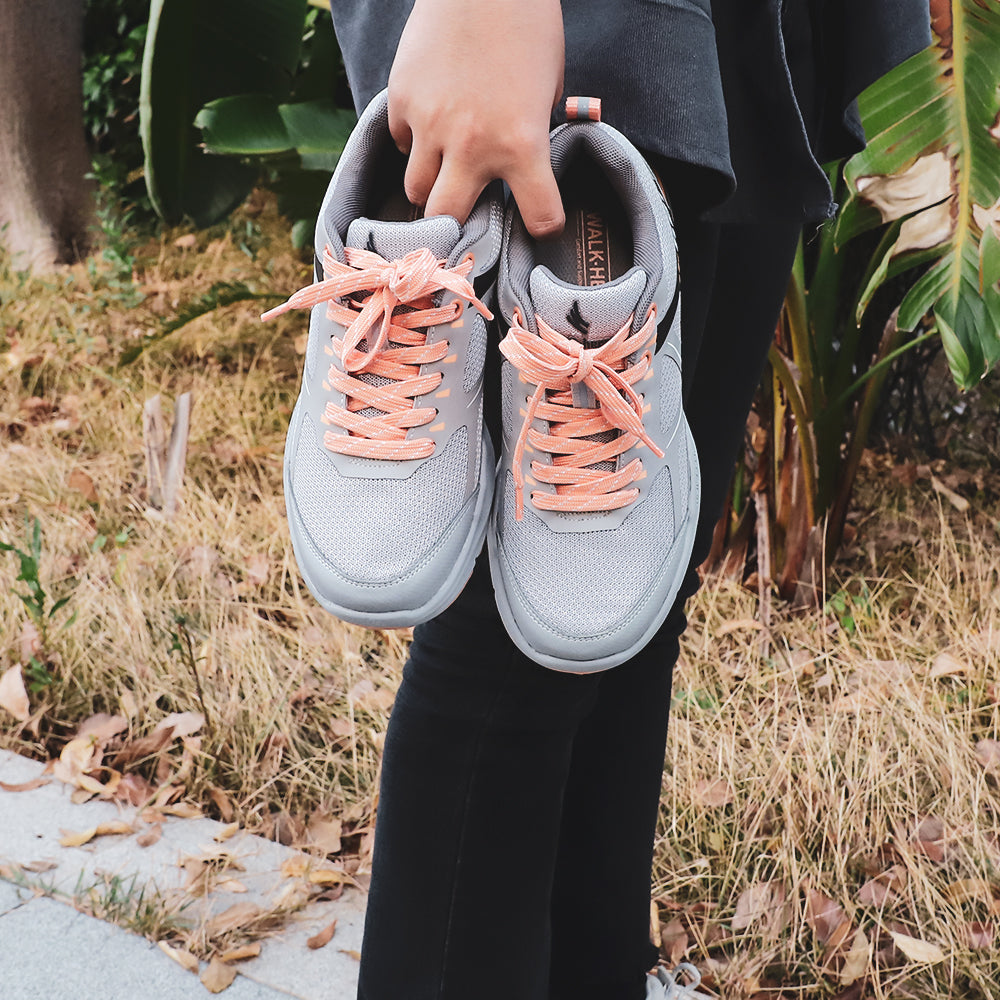 Shop Women's Jogging Shoes with Arch Support
#3 Best Resistant Slip-on Work Shoes for Plantar Fasciitis
These stylish and versatile slip-ons are created for people who are on their feet all day, giving customers a comfortable alternative to athletic shoes. Though the shoe style features a classic aesthetic, a rocker's bottom provides shock absorption similar to athletic footwear. Significant arch support, contours in the footbed, and a padded instep collar offer comfort with firm support.
These shoes come in medium widths to offer options for a variety of arch types. The brand recommends sizing up if you are a half-size. For the right fit with these shoes, the toe box should be roomy enough for you to comfortably wiggle your toes and you should be able to fit your pinky between your heel and the shoe.

WALKHERO reviewers give these shoes 4.7 out of five stars overall. Out of reviewers, 74 percent of people loved these shoes enough to give them five stars. Reviewers consistently say they get lots of compliments on these shoes and many say these shoes are great for plantar fasciitis. One reviewer comments, "No breaking these in, no blisters. And best of all, no heel pain! I can't wear flats or even sneakers currently because of the plantar fasciitis pain in my right heel, but the arch support and the thickness of the heel on these are perfect."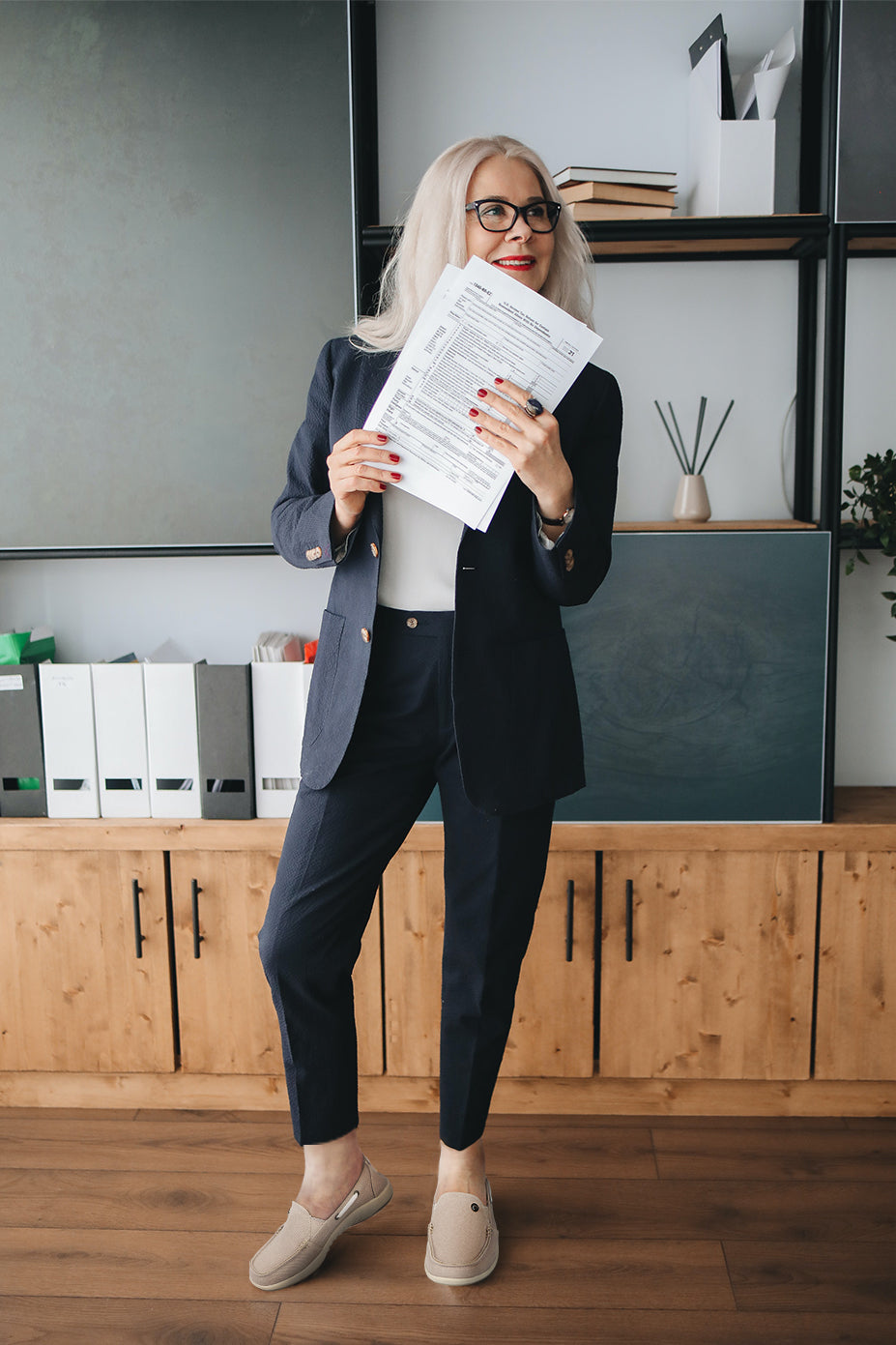 Shop Women's Canvas Loafers with Arch Support
Final Verdict
Plantar fasciitis may be excruciatingly painful, and the condition worsens if you constantly have to walk on your job. However, you can keep the discomfort at bay by wearing the finest non-slip work shoes for plantar fasciitis. The fantastic non-slip work shoes for plantar fasciitis are quite beneficial.