The Best Women's Orthopedic Walking Shoes and Sneakers, According to Experts
, by Edmond Elsina, 10 min reading time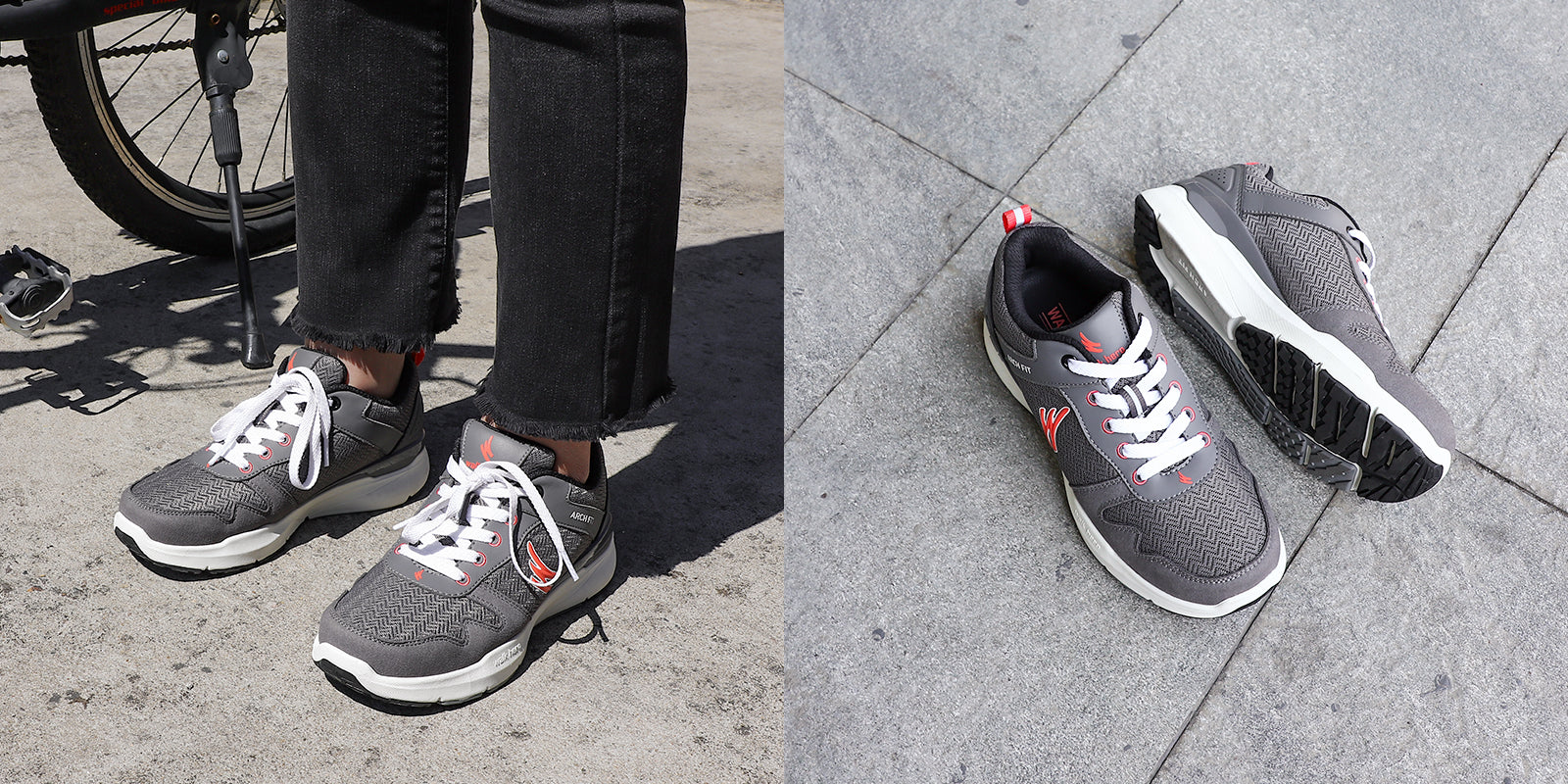 Whether you're commuting to work, taking a stroll with your pups (or kitty), or jogging in Central Park, wearing shoes or sneakers without arch support can be the endgame (no, we're not talking about Thanos snapping his fingers) for your feet. Without it, arch pain, strained muscles, and collapsed arches (oh my) are likely to ensue. Luckily, the best orthopedic shoes for arches exist and you don't need separate sneakers for walking and running.
Miguel Cunha, podiatrist and founder of Gotham Footcare in New York, said that any good running shoe is also a great walking shoe.Before we dive in, why are best orthopedic walking shoes so important? For starters, it can prevent and manage foot injuries, according to Nam Tran, DPM, a foot and ankle surgeon based in Dallas, Texas.
"Arch support helps achieve the proper biomechanical alignment of the foot who need for pain-free walking," Dr. Tran says. "When our joints are positioned properly, it greatly decreases the likelihood of early onset arthritis, overuse injuries, and ligament/tendon injuries."

Not all shoes are constructed equally. So before you swipe your credit card, Dr. Tran recommends checking out your inserts first. Supportive shoes will have inserts that have filler materials in the arch area. "If the insert does not have this and the inner floor of the shoe is flat, it is possible that the shoe contains no arch support," he adds.
What to Look for When Shopping for Orthopedic Walking Shoes
If you plan on going to the store to get fitted, it's best to do so in the evening since that's when your feet got swollen. "If the shoe feels comfortable at the end of the day, it will most likely feel comfortable throughout the day. Here are three other things experts said to look for when shopping for a new pair of shoes.
Examine Your Old Pair of Orthopedic Walking Shoes
Olga Shvets, a podiatrist in New York, recommended looking at your current sneakers for clues as to the right fit. "You can identify your foot type by paying attention to which part of your foot hits the ground first," she explained.
She said that you should look at the soles of a well-worn pair of sneakers. Seeing where they are worn out, it will indicate where you are making most of your impact. And it provides you with a good indication of your foot type.

According to Shvets, there are three types of feet, and knowing which type you have is the first step when it comes to buying the right sneaker or walking shoe:
Pronator: When your ankle or arch rolls or tips inward slightly, you are dealing with pronation. When the foot rolls too far inward toward the arch, you may referr to as overpronation. This gait can cause flat feet, which is when there is little to no arch in the feet.
Some people are born with this condition; other times it is a result of an injury to the ligament or tendon, causing the arch to collapse. Those with pronation and flat feet will see worn tread in the middle of the heel and toward the inner edge of the heel. A shoe with a supportive sole and a firm but the cushioned insole is best for overpronators.
Supinator: When your weight rolls onto the outer edges of your feet, you are dealing with supination. Supinators will see a worn tread on the outer edge of the heel and should look for added cushioning at the heels.
Neutral: If your foot lands on your heel and rolls forward during the gait cycle, the impact is that the forefoot distributed evenly. You have a neutral gait. Those with a neutral gait will see the most wear at the heel, as well as below the first and second toe.
Pay Attention to The Flex Point
Look for a shoe designed with smooth, solid leather uppers that are not only highly durable but also flexible and comfortable. "It is important to pick a shoe that offers as much durability and protection as possible without sacrificing comfort or flexibility.

For optimal comfort, the flex point of the shoe — which is the point at which it bends while walking — should match the bending point of your foot; when it doesn't align with your foot, it can cause problems like arch pain or plantar fasciitis.

You can check the flex point of the shoe by holding it by the heel and pressing the toe of the shoe onto the ground — the point where the shoe bends and creases are the flex point. Shvets added that most runners/walkers can benefit from a shoe with a stiff sole that doesn't bend in half.
Make Sure You're Buying A Shoe That Fits
It's important to remember that sizing can be different across brands due to design and the materials used. However, WALKHERO offers standard width sizes to accommodate most people's feet. Also, keep in mind that the length and width of your foot tend to change over time due to falling arches or hormonal changes that occur if you get pregnant.

The tip of your thumb should fit between the front of the shoe and the end of your longest toe. Make sure the toe box is wide enough to accommodate your toes — there should be enough room to slightly wiggle your toes.
Try at least three different shoe models — try two different models at the same time, wearing one model on each foot, to better compare. We offer free returns and exchanges, you can email us for customer service support for size quiz: cs@walkhero.com
Best Orthopedic Walking Shoes and Sneakers for Women
Whether you are an avid long-distance power walker, love to hit the trails, or simply want the best shoe for cruising around town, it's important to find the right shoe to fit your lifestyle and your foot type. We've asked our experts to share their top picks that offer supreme comfort, extra cushioning, and superior arch support to keep your feet feeling their best.
#1 Best Orthopedic Walking Shoes for Arches
Our best women's overall pick, these shoes earned our top spot thanks to their perfect score of 4 out of 5 for cushioning and stability—two very important features to look for in motion-control shoes for walking.

They are technically considered running shoes, but they give walkers who overpronate everything they'd want in a shoe, and more. In fact, the running shoe design makes them more flexible and responsive than most other motion control walking shoes. It allowed our tester, who suffers from overpronation, to walk for miles at a time without fatigue or pain. Our tester's feet never felt tired or sore after any of the test walks, and she continued to wear the shoes all day.

These shoes feature WalkHeros' signature EVA midsole and Air-Control technology. They are designed specifically for overpronators who need extra support.
Also, these shoes offer a snug, comfortable fit and don't rub or chafe in any spots due to the seamless mesh design, which earned them a higher score of 4 out of 5 for blister protection. Another aspect of these shoes that stood out to our tester was how light they felt, especially compared to other motion-control walking shoes we tested. They are soft, comfortable, and don't require any break-in period.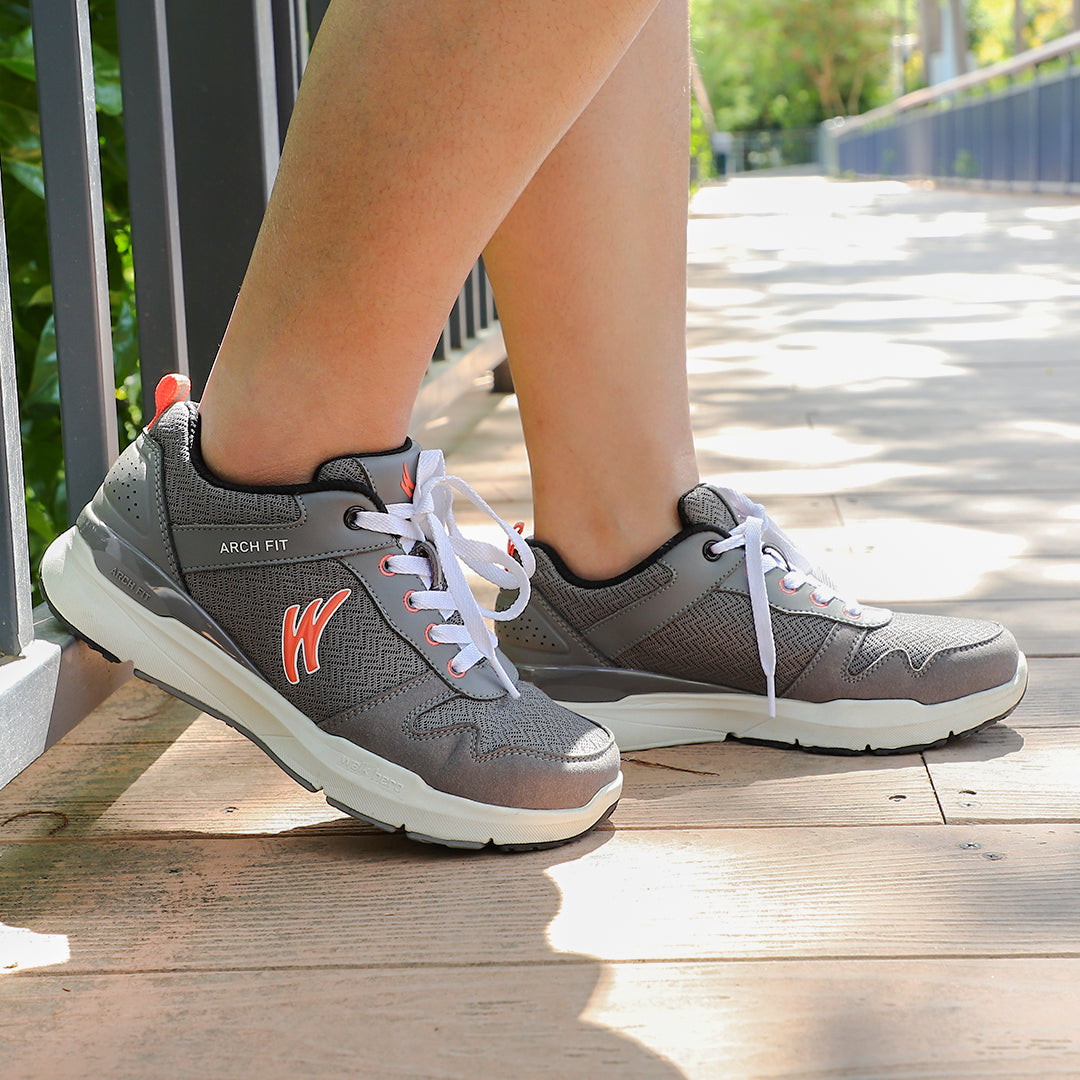 Shop Women's Walking Shoes with Arch Support
#2 

Best Orthopedic Sneakers for Everyday Use

WALKHERO makes shoes for walking, everyday use, and more. It designs with a springy foam base and breathable mesh upper. These sneakers are designed to contour your feet as you wear them. They have an internal and external molded heel for stability. As well as a soft foam sock liner that adds even more support.

These shoes feature lighter foams than their predecessor. And the "extended heel geometry" to help you move seamlessly from heel strike to forefoot. The shoe includes a removable, podiatrist-designed orthotic. That's made of flexible EVA, a rubber-like plastic similar to what Crocs are made of. And it has a durable rubber outsole.

They're available in three colorways and both wide and regular widths. The women's whole and half sizes ranging from 6 to 12.

A lot of people who've bought these sneakers are on their feet all day. And they say the WALKHERO rises to the challenge of support and comfort. "Feels like your favorite old shoe right from the start," one person says. "Like walking on cushions with great support. I use orthotics and replaced the insole with mine and the fit was perfect."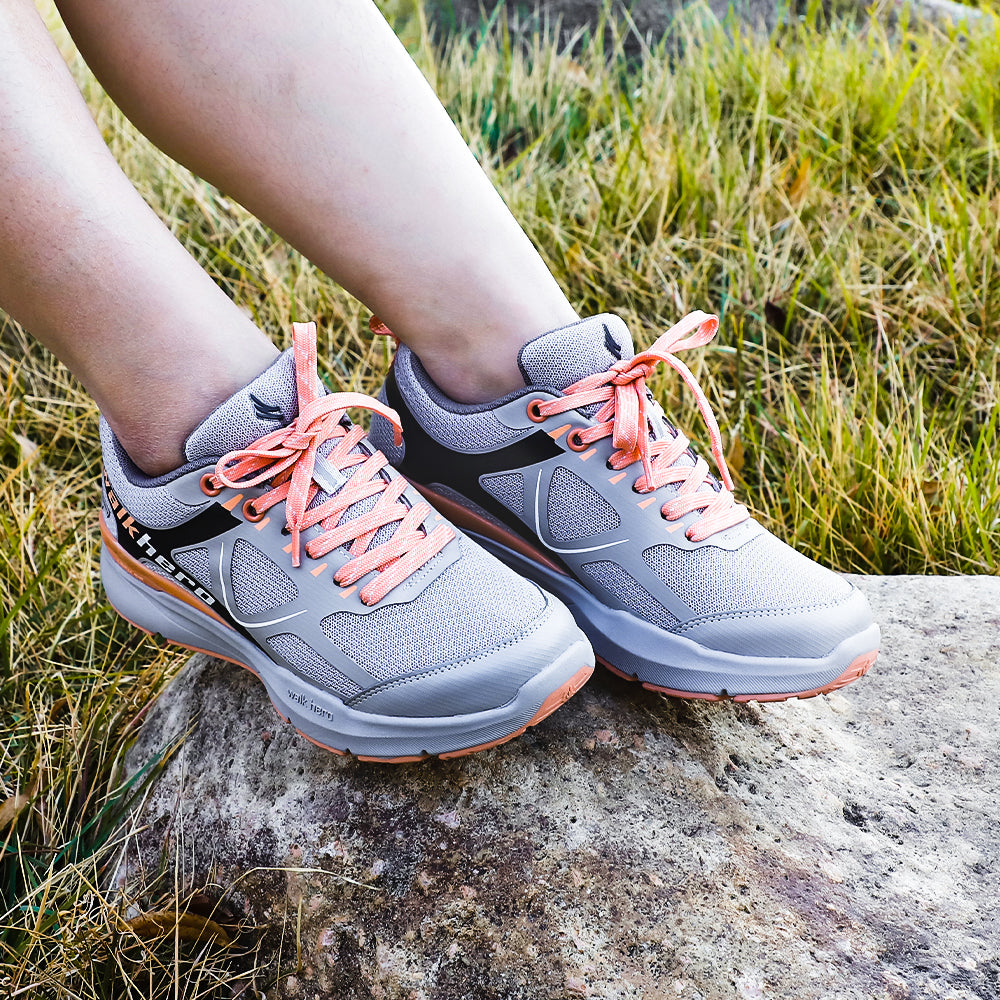 #3 Best Slip-on Sneakers with Arch Support
Fans of slip-on sneakers that are constantly on their feet. And they need a style like the drop-heel in this sneaker. It features a contoured footbed, EVA midsole, and cushioned outsole to provide hours of comfort.
"I have several patients that work in the food industry," New York City-based podiatrist ​​Casey Ann Pidich, DPM, begins. "I've recommended this shoe to them. Not only is it non-skid for slick work environments, but it's also supportive and comfortable for standing all day." Additionally, it's made from durable-yet-breathable leather material and is designed to repel odors.
What Customers Say: "These shoes are the most comfortable I have ever gotten. Thanks to the arch fit design," one 5-star reviewer says. "I can wear them anywhere and not worry about my arches killing me."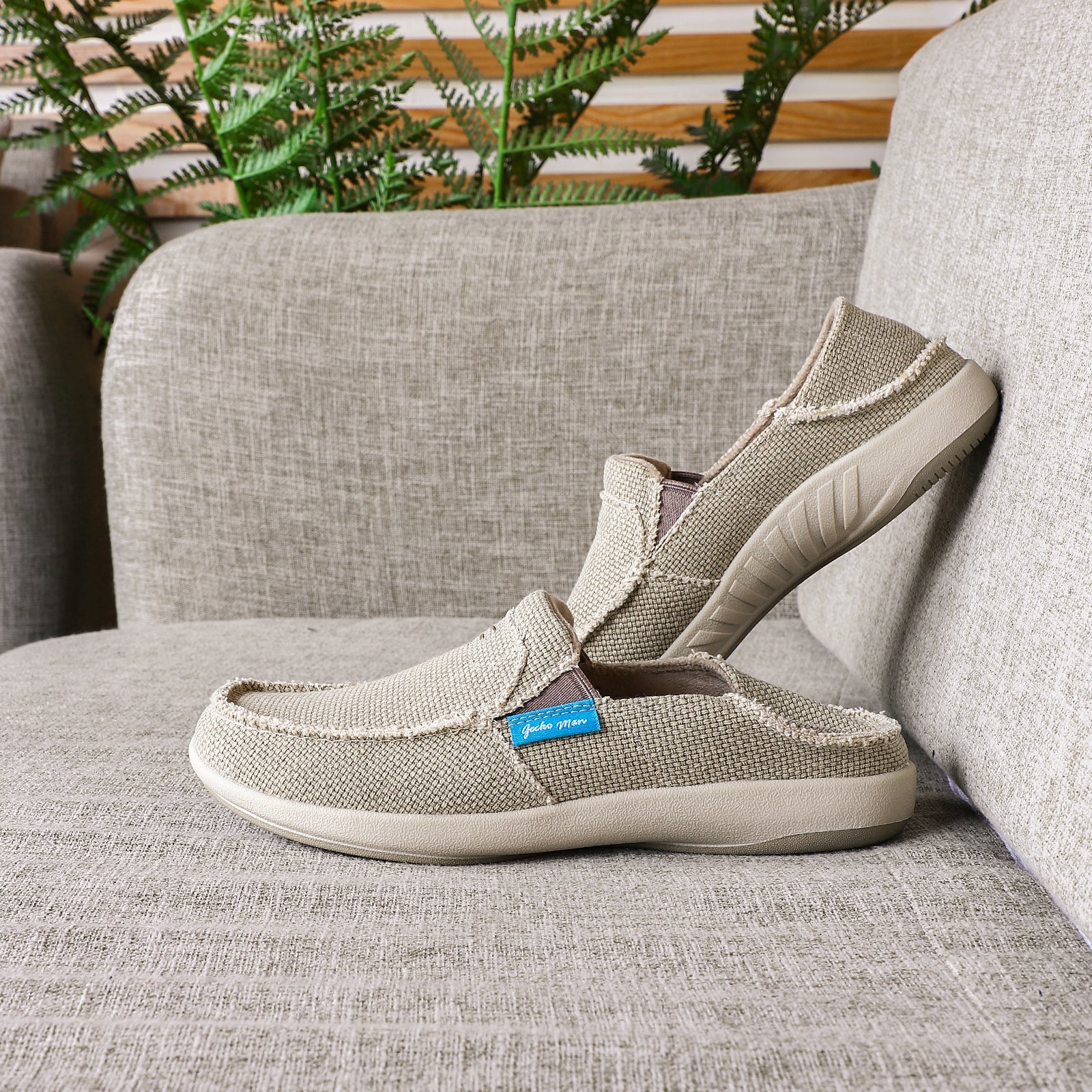 Shop Women's Canvas Slip-on Shoes with Arch Support
#4 Best for All-day Wear: WalkHero's Top Loafers Shoes with Arch Support
Our tester team swears that they "live in these sneakers", because the slip-on design makes them easy to put on when rushing out the door. With a chic look and breathable canvas upper, this pick is available in 5 shades. The thick cushioning on the back heels makes these sneakers comfy straight out of the box with ample support throughout.

It features adjustable arch support, strong heel cushioning, and an ergonomic sole. The WalkHero canvas loafer shoes are an excellent choice for anyone who overpronates. But they're especially good for those with plantar fasciitis. From the moment our tester laced them up, these shoes were incredibly comfortable. And it provided support without feeling heavy. They earned them a perfect score of 4 out of 5 for both upper comfort and cushioning.

One thing that stood out to our tester is that they were more responsive than most motion control shoes. Because it makes longer walks less tiring. The roomy toe box is perfect for anyone with a wider top foot or bunion. WalkHero Canvas shoes come in standard widths in sizes 5-12. We come with an adjustable arch insert, two insoles, and room for a custom orthotic. So we made them the most customizable shoes we tested.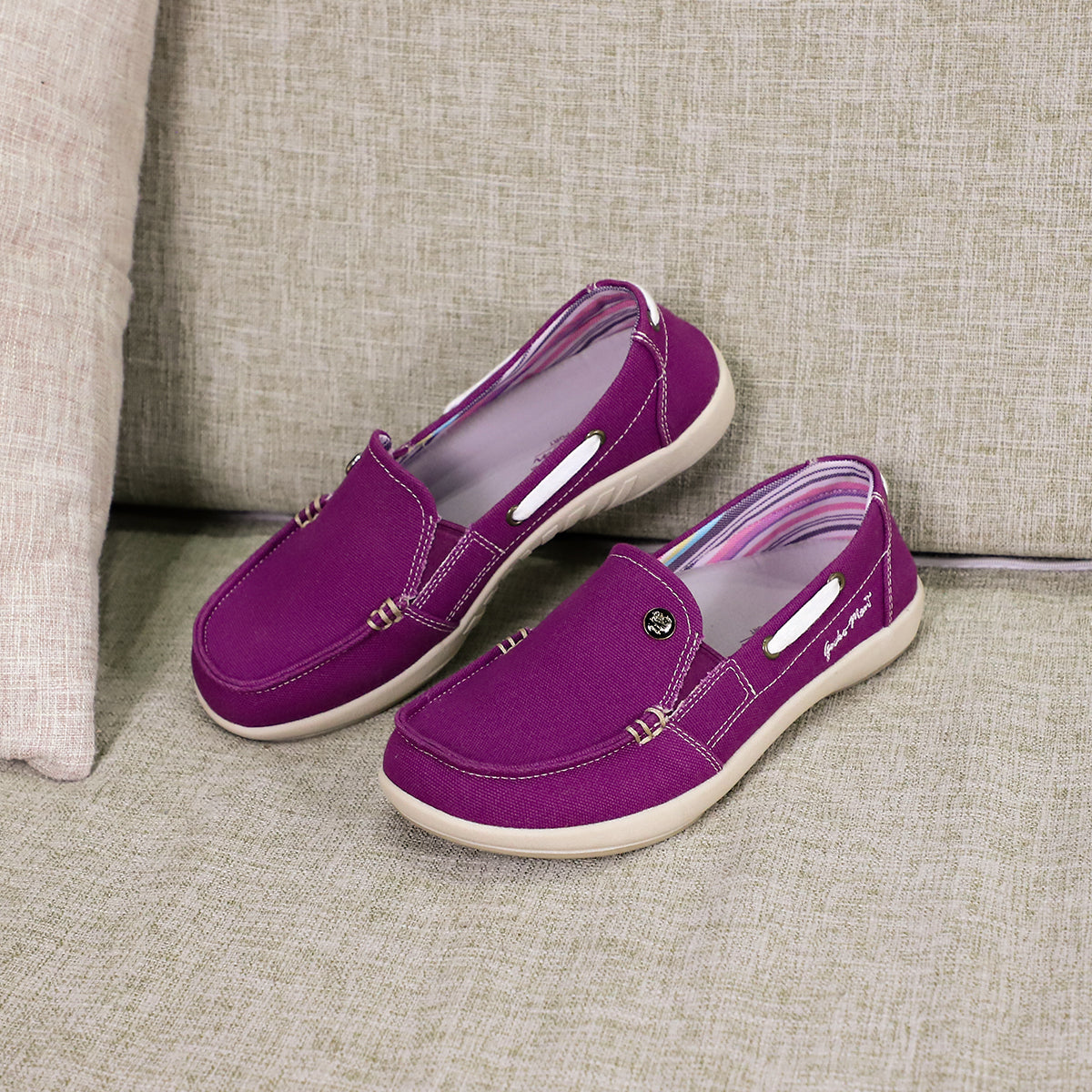 Shop Women's Canvas Loafers with Arch Support
---